Are you tired of an untidy and unkempt lawn? Do you long for a properly maintained lawn free of weeds and nuisance plants? If so, then you need to maintain it regularly. There are several tools available on the market that claim to help you to achieve a clean lawn.
Editor's Pick
Good Choice
Don't Miss
Also Consider
Husqvarna string trimmer line .095-Inch 840ft spool Titanium Force High efficiency Long life Faster...
Oregon 22-895 Magnum Gatorline Square Trimmer Line .095-Inch by 685-Foot, 3 lbs, Gray
DEWALT DWO1DT915 0.095IN Trimmer LINE 144 FT, 144-Feet by 0.095-Inch, Multi
A ANLEOLIFE 5-Pound Commercial Square .095-Inch-by-1280-ft String Trimmer Line in Spool,with Bonus...
Editor's Pick
Husqvarna string trimmer line .095-Inch 840ft spool Titanium Force High efficiency Long life Faster...
Don't Miss
DEWALT DWO1DT915 0.095IN Trimmer LINE 144 FT, 144-Feet by 0.095-Inch, Multi
You should also note that the size of weeds on the lawn will affect the type of tool you will use. If your lawn has medium-sized weeds, then the best .095 trimmer line is just what you need to help you get rid of them. However, choosing the right one can be a hassle. That's why we extensively researched the best options on the market.
What is the Best .095 Trimmer Line in 2023?
Aside from providing an in-depth analysis of these products, we've also provided a buyer's guide to help you make the right buying decision.
1. Husqvarna Titanium Force – Best .095 Trimmer Line (Editor's Choice)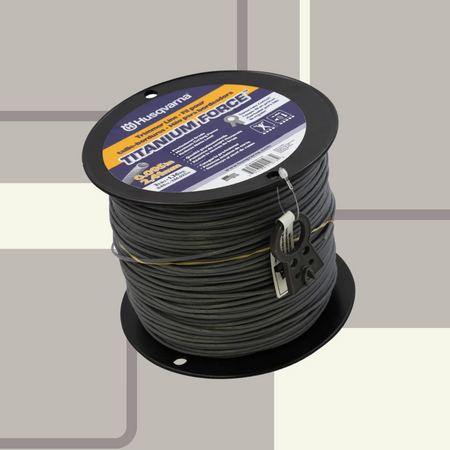 So it's not surprising to find the brand has a product on this roundup. From reviews and testing, this string trimmer line is the best choice for medium-sized weeds. Husqvarna is a relatively popular brand selling lawn equipment like mowers, chainsaws, trimmers, and similar equipment. Their products are some of the best options you can currently find on the market.
Design and Materials
This line is made of copolymer-induced nylon. This material ensures that you can cut through weeds with impressive ease. Furthermore, this material is very durable. You can use it for an extended period before you need to replace it.
Performance
Performance is where this unit shines. The advanced technology at play here results in extended life and improved performance. Its titanium force thread makes it rotate quickly and cuts easier. This technology not only assures a great performance but also improves fuel consumption.
The only drawback here is that it isn't designed for high-torque string trimmers.
Overall
It's an excellent option for professionals or amateurs. It's long-lasting and delivers excellent performance.
Pros
Compatible with several standard trimmers
Durable
Powerful performance
Relatively quiet
Cons
Relatively expensive
Not for heavy-duty application
Not designed for high-torque string trimmers
2. Oregon 22-895 Magnum Gatorline Square – Best Budget .095 Trimmer Line (People's Choice)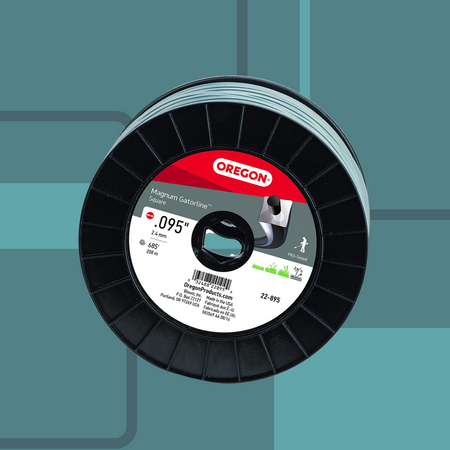 Some products are simply unbeatable in terms of performance, and this product is one of them.
Design and Materials
The Oregon 22-895 is reinforced with durable aramid fibers. The model also has a powerful inner core. These design features result in a highly reliable product. Surprisingly, despite the impressive build quality, it's currently one of the most affordable options on the market.
This product provides up to 700' of line. While that seems impressive when compared with other brands, it's rather small.
Performance
When in use, I observed that it doesn't 'weld'. Welding occurs when the line melts due to high temperatures. Therefore, you won't lose any line before using the product. Its strong inner core isn't only durable but impressive in terms of cutting power. Jobs that normally require frequent line replacements can be completed in a single task with this line.
Overall
You can rely on this product as you clear the weeds in your surroundings. While the 700' of line is less per roll when compared to what other brands offer, it compensates by being one of the most durable options on the market.
Pros
Doesn't 'weld'
Strong inner core
Very durable
Good value for money
Cons
Less per roll compared to other brands
The square edges reduce trimmer's efficiency
3. Weed Warrior 17068 100FT Pulverizer Bico – Best Trimmer Line for Edging and Trimming


Named 'Pulverizer', it's not surprising that this product delivers affordable and powerful performance.
Design
This well-designed product is made of good quality materials. It features an aerodynamic twist shape known to reduce drag and improve overall efficiency.
Additionally, it features a bi-component design to ensure improved flexibility and durability.
At 100', it's quite small. However, it's not surprising considering it's the cheapest option in our review.
Performance
This trimmer is quite adequate for trimming and edging medium-sized weeds. The design features make it efficient, flexible, and installation is straightforward.
Pros
Great for edging and trimming
Flexible
Cheap
Compatible with many other trimmers
Easy to install
This unit is compatible with many different f trimmers ranging from straight to curved, electric, and battery-powered units.
4. DEWALT DWO1DT915 – Best for Cordless Trimming


Another product from a popular brand, the Dewalt DWO1DT915 is a reliable line that you can depend on for lawn care.
Design and Material
In terms of design, this product offers several advantages. First, the material of construction is impact-resistant and durable.
Additionally, the aerodynamic string design makes it efficient and highly effective in removing weeds.
Notably, the aerodynamic trimmer line is especially effective when used with cordless trimmers.
Performance
This line offers greatly enhanced cutting power. Its design allows the trimmer to cut efficiently without stressing the engine, which can reduce its lifespan.
While this trimmer doesn't compete with top-end models found on this list in terms of durability, it holds its own better than several similarly priced options on the market.
This product's main drawback is 'welding'. When exposed to high temperatures, the line 'welds' together and becomes difficult to pull apart. Additionally, it struggles with heavy-duty clearing.
Overall
The low price and design make this unit very appealing. Made in the USA, it cuts weeds smoothly without stressing your trimmer. It's excellent for DIYers and home use.
Pros
Affordable
Impact-resistant material
Great for cordless trimmers
5. Arnold Maxi Edge .095-Inch – Best Flexible Trimmer Line


DesignThe universal design of this product from Arnold makes this model one of the most versatile options available.
From the specs, this is a .095" string trimmer line. It's ideal for handling light jobs around the home. Well-built and affordable, the 819' line provides enough line to cover most tasks.
The 4-point star shape design is a feature that slightly differentiates this product from many others on the market. It also has hardened cutting edges.
Performance
The hardened cutting edges improve performance and deliver a line that can cut through medium-sized weeds and last for a relatively long time. The soft inner core means makes it easier to wind without breakage. A highly versatile option, you can use it with several types of trimmers on the market.
The only drawback is that this model isn't as durable as other products reviewed so far.
Overall
If your goal is to trim the weeds around the home, this affordable and efficient line trimmer is a good fit.
Pros
Fits many trimmers
Flexible
Package includes a cutting tool
6. Anleolife 5-Pound – Best Multi-sided Trimmer


The Anleolife String Trimmer Line is a highly recommended line trimmer.
Design
This unit stands out from its contemporaries due to the line's multi-sided design feature. Additionally, its construction of copolymer and plastic makes it a durable and effective product.
Performance
The multi-sided design of this product allows easy cutting through medium to large-sized weeds. Sharp sides and edges make cutting through weeds much quicker.
557' of line allows plenty of line to cut with. Furthermore, it can be used with different brands of weed cutters on the market.
While others weld in heat, this product has no such issue.
However, the strings of this product are affected by cold weather. They become brittle and break easily.
Pros
Multi-sided design
Durable
Fast and efficient cutting performance
Cons
Breaks easily in cold weather
7. Buyers LT40 3 – Best Trimmer Line Holder


Looking for a way to keep your trimmer line secure and tangle-free? Then you'll need a trimmer line holder.
There are several options on the market, but you probably won't find a better option than the Buyers LT40 3 bracket.
Design and Material
This product is designed to provide easy access to your trimmer line. It can conveniently hold up to 5 lbs line spool and keeps the line free from tangles.
It's quite durable, and while made of steel susceptible to rust, the black powder coating helps resist rust and strengthen the bracket over time.
Pros
Great value for money
Highly durable
Can be installed easily wherever you want
Buying Guide
In the section above, we considered some of the best .095" trimmer lines currently available on the market. In this buyer's guide, we'll review some of the important information to help you choose a trimmer line.
Why do you need a Trimmer Line?
The string trimmer is a useful tool for managing your lawn and eliminating weeds. While all parts of the tool are important, the trimmer line is critical because it does the actual cutting. When considering a trimmer, buy the correct trimmer line.
Let's review some important parameters before making a final decision.
1. Compatibility
Before purchasing, ensure that the trimmer line is compatible with the trimmer. Check the trimmer's user guide to determine the size of the line required for the trimmer. Most manufacturers typically specify the range of trimmer lines that are compatible with their products. Additionally, some are only compatible with only certain models.
2. Shape
Another critical factor is the shape of your trimming line. In the past, most of these lines had a round shape.
However, there are now several types of shapes available:
Multi-sided
This line comes in shapes like stars and pentagons. These irregular shapes have sharper edges that deliver a quick, smooth cut.
If you have plenty of weeds to remove, this line is ideal.
Round
These are the most common and economical options. They're effective for trimming grass edges.
However, round trimmer lines aren't particularly durable, so they're best suited for domestic rather than commercial use.
Square
Square trimmer lines come with four flat faces to help efficiently disperse force. Square-shaped models are more durable because the faces don't experience as much line wear.Furthermore, the edges are sharper and offer better cutting performance.
A square shape line is better than the traditional round shape because it doesn't wear out as quickly. Its sharp edges also cut through weeds that a round line can't typically handle.
Despite these advantages, there are disadvantages. While square shape lines offer superior cutting performance, they're heavier than round-shaped lines. Also, their larger size and shape aren't as versatile as the round shaped line.
Star
This line is similar to the round shape lines. It comes with extra points instead of the traditional smooth round shape, which makes it cut quickly and efficiently. There are different types of star-shaped lines ranging from 2, 4, and 6-pointed star-shapes.
The disadvantage of this line is that it's not as durable as the round shape trimmer line.
Braided
The last shape is the braided trimmer line. As the name implies, it comes in braids. Lines are woven together to form a thick, durable line, which doesn't wear out as quickly compared to the other options. However, they're not as effective at cutting weeds.
3. Durability
Although the shape of the line greatly affects durability, other factors also affect the durability of your trimmer line.
One factor is material. If your line is made from low-quality materials, regardless of the shape, don't expect it to last a long time. An example of these low-quality materials is plastic, which wears out quickly.
Copolymer nylon, found in several of the options we reviewed above, is one of the best materials for trimmer lines. It's lightweight and very durable.
Our number one pick is made from an even better material: titanium. This material provides excellent cutting performance. However, it's usually more expensive.
Aside from the material, the inner core of the line affects durability. For example, our top pick comes with a high-strength core that vastly enhances its durability. Remember that the line undergoes extreme stress as it cuts the grass. With a strong inner core, it withstands stress better and lasts much longer.
4. Diameter
Trimmer lines come with different diameters. The diameter you need largely depends on what you plan on cutting.
If your lawn is full of light weeds, you'll likely require a line in the diameter range of .065-.080".
For medium-sized weeds, you'll require a thicker line, usually in the .085-.105" range. This article focuses on the 0.095" options, which are made for medium-duty application.
If your lawn is overrun with thick growth, then you'll definitely need an even thicker trimmer line of over .110" diameter.
5. Length
Trimmer lines come in spools. Therefore, when choosing a product, note how many yards are spooled. If the trimmer line is made from high-quality materials, you might not need plenty of line since the quality will make it last longer.
However, if the trimmer line is made of relatively low-quality materials, it would be prudent to choose a product that has a longer length.
Best Trimmer Line FAQs
How can you replace a trimmer line?
Since trimmers are made from different manufacturers, you should consult the user's manual. This will tell you the type of trimmer line to use and how to install it.
What is the recommended length of the trimmer line?
We recommend that you add about 10" of trimmer line to the spool.
How do I stop the trimmer line from breaking?
Many factors can cause your trimmer line to cut. First, check if you're using the appropriate size. If you choose a thick line because of the type of weeds, you might damage the trimmer since it has to do more work.
What is the best size to use?
The size you need largely depends on what you plan on cutting. If your lawn is full of light weeds, you'll likely require a line in the diameter range of .065-.080". For medium-sized weeds, you'll require a thicker line, usually in the .085-.105" range. If your lawn is overrun with thick growth, then you'll definitely need an even thicker trimmer line of over .110" in diameter.
Conclusion
All the products we reviewed above are some of the best options on the market. These .095 trimmer lines come with useful features that ensure superb overall performance.
Our top pick is the Husqvarna Titanium Force String Trimmer Lines. It might be more expensive than other options, but it's definitely worth the cost.
We also highly recommend the Oregon 22-895 Magnum Gatorline Square Trimmer Line, which is a more affordable alternative to our top choice.
We hope that our reviews and buying guide will assist you in making the right choice.
Husqvarna string trimmer line .095-Inch 140ft spool Titanium Force High efficiency Long life Faster...
Includes one Husqvarna Titanium Force 140-Foot String Trimmer Line compatible with all standard string trimmer heads
Made For Durability: Round, dimpled, co-extruded weed eater line is made of a commercial-grade polymer for maximum durability, cutting performance and energy efficiency
Precision Manufacturing: Husqvarna weed eater string has an undulated surface for quiet operation and precise cutting
Low Noise: The patented design on this weed whacker string reduces the noise level by 50%, which gives a better working environment
Quality Engineering: Manufactured in the USA, these Husqvarna string trimmer accessories provide great resistance to abrasion and reduced breakage with co-polymer engineered resins that improve...
Sale
Oregon 20-020 Magnum Gatorline Supertwist Trimmer Line .095-Inch by 282-Foot
High cutting efficiency – Magnum Gatorline allows you to get cleaner, straighter cuts with less effort than traditional trimmer line
Durable – High-strength inner core resists breakage, which means that the line lasts longer and you spend less time winding spools
Twisted trimmer line – Produces fewer decibels and less drag than other shapes for less noise while trimming. The twist shape also delivers a straight cut, making it perfect for trimming around...
.095" diameter trimmer line is a good size for cutting heavier weeds in your lawn or performing light commercial work
Fits many popular weed eaters that use .095-Inch weed wacker string including, but not limited to, models from brands such as Echo, Stihl, Husqvarna, DeWalt, Ryobi, Troy Bilt and more