Decks are a great way to add extra space and beauty to your home. They are also a great place to relax and enjoy the outdoors. Even the tiniest section of decking may be made into a peaceful place for enjoying the good weather, having drinks with friends, or even dining alfresco, as it turns out. Many of the more ornate decking designs may be scaled down to fit into smaller areas with a little stylistic know-how and practical advice.
A fantastic example of how decking may be used in tiny areas is front porch designs. However, a bright white backdrop – for both the walls and the decking itself – will maintain the appearance friendly. This will assist to reflect light around the area, making it appear larger.
There are many different types of decks to choose from, so how do you know which one is right for your home?
Let's discuss a few different creative ideas for your outdoor space.
Traditional Decks
If you are looking for a traditional deck, be sure to consider the size and shape of your lot. Some decks are designed to be rectangles or square in shape, while others are more circular or oval. You'll also want to decide on the materials you'll use. You can choose from wood, composite materials (such as metal and plastic), or stone. Circular forms aren't often the first thing that comes to mind when it comes to landscape ideas, but they can be really stunning when utilized for decking. It's a nice feature to have if you don't want your yard to have too many hard lines.
Arbor Deck
One popular choice for a traditional deck is an arbor deck. This type of deck features a railing around the perimeter and is perfect for relaxing with friends or family outdoors. You can also choose an arbor deck if you want an extra level of privacy.
Raised Decks
If you have a yard that is level but not large enough for a traditional deck, consider installing a raised deck. This type of deck is built on a platform and is raised off the ground, making it easier to access. You can choose from wood or composite materials when building your raised deck.
Rainy Day Deck
If you live in an area that gets a lot of rain, consider installing a rainy day deck. This type of deck features waterproofing and drainage systems so you can still enjoy your outdoor space even when it's raining outside.
Pergola Deck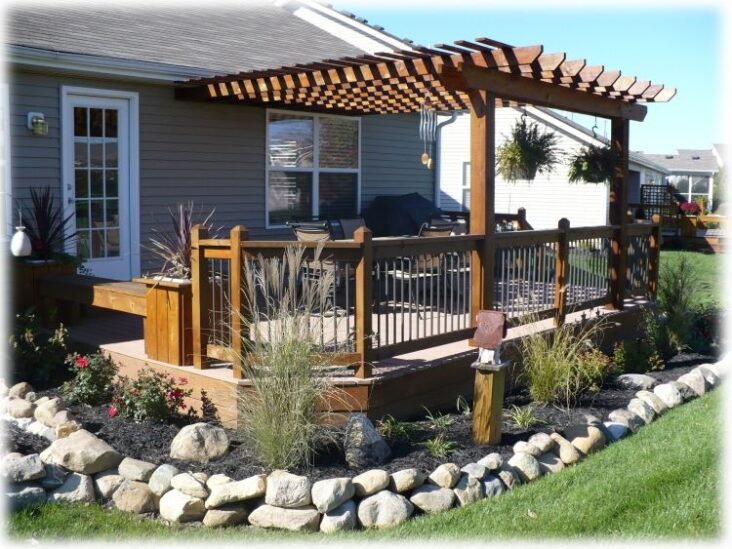 Pergola decks are popular for their rustic appeal. This type of deck features a wooden frame with a covered section at the top. HeartlandDecks, for example are experts when it comes to creating decks that perfectly match your home's style and personality.
Patio Deck
If you have a small yard but want an outdoor space to enjoy, consider installing a patio deck. This type of deck is designed to fit on top of an existing patio and is made out of wood, composite materials, or stone.
Lantern Deck
If you're looking for an elegant and romantic option for your outdoor space, consider installing a lantern deck. This type of deck features beautiful lanterns that are lit at night.
Wraparound Deck
If you want an expansive and luxurious outdoor space, consider installing a wraparound deck. This type of deck features a wooden frame that is surrounded by a fence or railing.
Multi-Tier Deck
Multi-tier decks have a very unique design that is perfect for those who want a lot of space to enjoy their outdoor space. This type of deck features several wooden decks that are stacked on top of each other.
Detached Deck
A detached deck can be built anywhere on your property with access via stairs or a pathway. It is best situated over areas with poor drainage, or bumpy, rocky and uneven terrain, and complemented by landscaping bushes or flowerbeds around it. Stacking furniture is the pinnacle of adaptability, and it's an excellent complement to any tiny deck design. Do you have a deck with steps? Stack a few flower pots at various levels.
This gives the whole look more depth. You don't have a deck of cards? Don't be concerned! Plants in pots should be layered on the ground as well as higher up on tables and benches. When you need additional floor space, tuck it neatly out of the way. Don't be concerned about your appearance. There is a plethora of fashionable outfits to pick from these days. These artistic chairs, which are made of recycled plastic and are supposed to enhance balance, are a major hit with us.
Rooftop Deck
Rooftop decks can make your relaxation space feel like the terrace of a high-rise building. Offering stunning views of the cityscape, a rooftop deck is perfect for those who want to enjoy the outdoors without having to leave their home.
Decks with Pools
If you're looking for an outdoor space that can be used for both relaxation and fun, consider installing a deck with a pool. You can style this type of deck in several different ways like a traditional pool deck, a hot tub deck, or an outdoor living area with a pool.
You can add a fountain or a waterfall to your deck to create an extra level of relaxation and luxury. Some people give their pools more of a pond feel. You can make your pool deck by adding a patio cover or design a sunken area around the pool with stone and brick walls.
Island Deck
If you're looking for a unique and stylish way to enjoy your outdoor space, consider installing an island deck. This type of deck is perfect if you have a large lot or if you want to create a separate area for dining, entertaining and sunbathing. Island decks are often elevated on stilts or pillars so that they're not directly in contact with the ground below.
No matter what style of deck you want, there is sure to be a design that will fit your needs and style. With all of the different options available, you are sure to find the perfect deck for your home.