Foresters require various equipment and machinery to cut and process trees. These machines help in reducing your efforts and do all the tasks in less time. In the following write-up, we will discuss some of the common forestry equipment and machinery used for logging.
1. Chain Saw
This equipment is perfect for the delimbing task. It is available with a powerful motor, operated by electricity, diesel, or hydraulic. The saw is well-connected with a loop, which is rotated at high speed on a bar.
The cutting edge on the chain help in sawing wood. Chain saw are available in different sizes, bar lengths, gauges, pitches, and cutting teeth. It is necessary to take safety measures whenever you are using this equipment.
2. Harvester
It is an effective machine, which helps in delimbing, as well as, bucking the trees into perfect logs. It comes with 4-6 wheels, which easily fell off the trees, cut the wood, remove all the branches, etc. Finally, you will get an amazing end product with a higher value. This heavy machine operates on diesel and is perfectly fit over the hydraulic loader, on which the harvester head is well-mounted.
It comes with a chainsaw with sharp knives. When you take it close to the trunk, it will eliminate the branches, feed its rollers and move the near tree over the head. There are diameter sensors, which help in calculating all the harvested wood, and a wheel for calculating the length of the stem. It is hard to take on steep terrains, but one can 'operate it on the leveled grounds.
3. Log Splitter
It is another effective forestry machines, which helps in splitting the logs efficiently. It is possible to cut wood of every length and width with ease. The steel body is quite durable, and it can be used on flat and steep terrains.
You can get wood of any size and shape with the help of this equipment. If you want a log splitter, you must visit uniforest.de to know more about this equipment and choose the right one.
4. Feller Buncher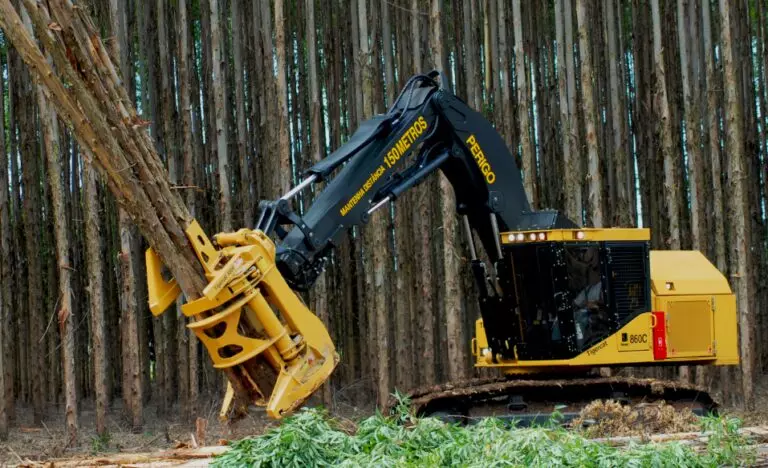 This equipment works similarly to a harvester, but it can fell and hold more trees simultaneously. You can operate the head to cut and place all the stems over the ground. These machines slice trees in stacks and remove all sorts of loads by a skidder. The chain saw equipped machine cut all the small trees that are placed at the base simultaneously.
5. Forwarder
It works as a tractor that helps in loading and unloading forest materials. It pulls the load of wood and clears things from the woods. This equipment is quite expensive because it collects large loads, and the cost of extraction becomes more. If anyone compares it with a skidder, then it an expensive option.
6. Skidder
It is an amazing machine to move logs from the forest to storage houses. It is available with wheels and track. One can choose the desired one according to the terrain. The track ones can be operated for short distances, and the wheeled ones are for long extraction distances. The grapple model can carry more than one wood at the same time. It is commonly used as equipment by foresters.
7. Chipper
It is a chips-manufacturing machine, which is useful for paper as well as pulp industry. This productive machine can easily reduce any tree into a chip. There is a proper setting to get the desired shape and size of the chips. The equipment includes rotating knives, anvil, discharge chute, etc. Generally, the chippers are either self-propelled or track-mounted. In some models, there is a feature of debarking and delimbing.
8. Mulcher
It is the basic equipment to grind, chop, or cut the vegetation and harvest the as waste. It is a perfect chemical treatment for residues. This machine is mounted over a tractor, loader, bulldozers, etc. When the stems are fallen near the machine, it starts chopping into small pieces and then drives them off. There are higher chances of grabbing debris and rocks from the ground. It helps in directing the material to the ground.
9. Log Loader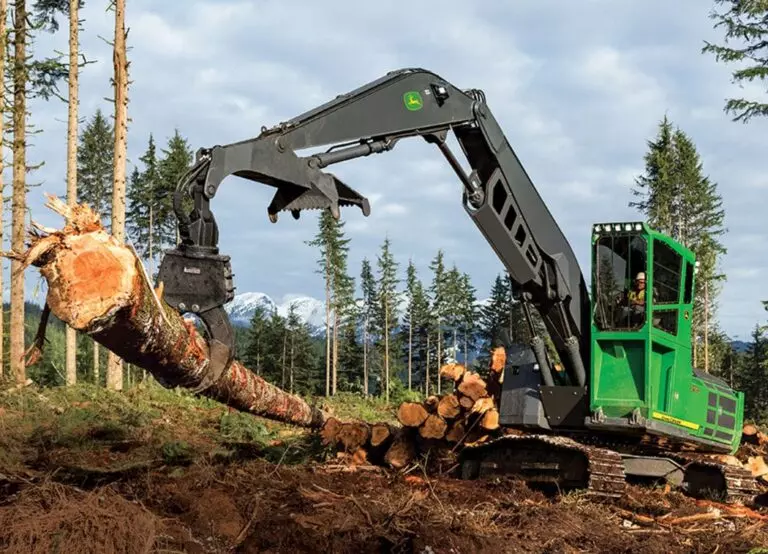 After cutting the logs, it is important to load it and carry it to another place. Previously, people use pulleys and apply lots of effort for loading the logs. But now, with the help of a loader, the loading and stacking process becomes simplified.
There is plenty of loader with different features like track, shovel, knuckle boom, etc. There is a type known as Truck-mounted loader, which helps in easy loading of logs on a truck. The capacity for carrying wood is similar to a normal truck.
10. Yarders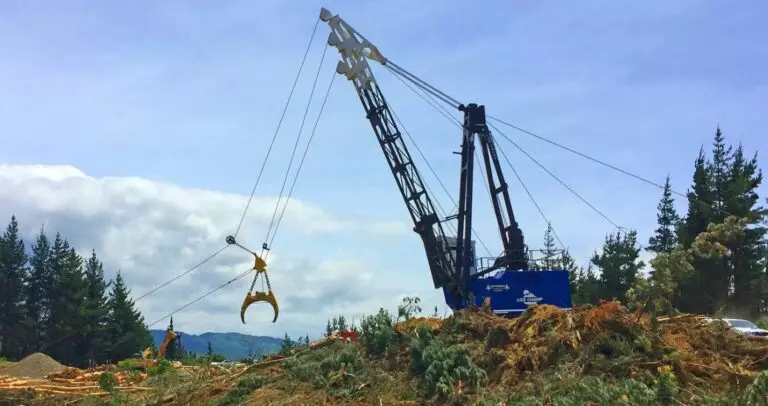 In steep terrains, it is difficult to take any equipment for cutting and managing the trees. With the help of a yarder, it is easy to extract the logs from such terrains using cable logging and skyline operations. There are two types of yarders, stationary and mobile. It is possible to lift the logs from the ground and transport it to another location.
There are hydraulic or mechanic winches, which helps in managing the carriage movement. There is a need for an operator, which can easily control the yarder by levers and switches. It consists of a swinging or fixed boom that helps in controlling the yarder moves. If you want to increase productivity, then you must use the automated ones.
The Bottom Line
There is too much requirement of equipment and machines for logging and processing trees in a forest. Many people are unaware of such things. Logging is not only about cutting trees, slicing wood, etc. It needs to be loaded on transport so that one can take it from one place to another.
It is important to understand all the machines' functionality, as mentioned earlier, before implementing them. You can increase your productivity by opting for automatic and highly-efficient machines. Go through all the mentioned machines and carry out all the tasks in less time and effort.