Circular saws are some of the most commonly used tools. These powerful cutting tools are usually the driving force behind home improvement jobs and other projects.
With no cord to slow you down, a decent battery-powered circular saw provides limitless mobility and freedom. We searched high and low for the top cordless circular saws.
Best Choice
Don't Miss
Also Consider
Makita XSR01Z 36V (18V X2) LXT® Brushless Rear Handle 7-1/4" Circular Saw, Tool Only
Makita SH02R1 12V max CXT® Lithium-Ion Cordless 3-3/8" Circular Saw Kit (2.0Ah)
Bosch CCS180-B15-RT 18V Lithium-Ion 6-1/2 in. Cordless Circular Saw Kit (4 Ah) (Renewed)
Best Choice
Makita XSR01Z 36V (18V X2) LXT® Brushless Rear Handle 7-1/4" Circular Saw, Tool Only
Don't Miss
Makita SH02R1 12V max CXT® Lithium-Ion Cordless 3-3/8" Circular Saw Kit (2.0Ah)
Also Consider
Bosch CCS180-B15-RT 18V Lithium-Ion 6-1/2 in. Cordless Circular Saw Kit (4 Ah) (Renewed)
What is the Best Cordless Circular Saw in 2023?
While it can be difficult to distinguish the difference between saws, we found a wide range of variations to consider.
Read along to learn about the top five cordless circular saws and find out what to look for when shopping for a battery-powered saw of your own.
1. Makita XSR01Z – Best Battery Powered Circular Saw (Editor's Choice)


Still, that's not what sets this sensational saw apart from the competition. Makita's 7 1/4-inch circular saw has a powerful 18-volt brushless motor that keeps it cool and running efficiently.
The Makita requires dual 36-volt LXT lithium-ion batteries which give it enough power to be one of the premier portable circular saws on the market.
In fact, this saw delivers a maximum torque of 5,100 RPM. Not to mention, it boasts an ergonomic left-blade rear-handle design that makes for super safe and productive cuts.
With a potential for 558 precise cross-cuts per charge, this saw is engineered to outperform standard saws.
The Makita's automatic speed change technology allows users to adjust the speed and torque to optimize the saw's performance. With a 2 9/16-inch cutting capacity at 90-degrees, it can easily cut through multiple layers of material.
What's more, this saw has an impressive 0 to 53-degree bevel range with positive stops at 22.5, 45, and 53-degrees. It is also important to note that the saw weighs just 12.4 pounds with both batteries installed, making it one of the lightest circular saws of its size.
Safety Features
With so much power in this saw, Makita has taken several measures to ensure the safety of its users. An electric brake enables quick, productive stops. What's more, a magnesium base and blade guard help keep the saw's weight down while maximizing protection.
If that were not enough, an aluminum safety cover and motor keep users hands away from potentially hot internal mechanisms. The saw even has a non-slip rubber-coated grip to keep give users maximum control and stability during lengthy projects.
Overall, we'd say the 7 1/4-inch Makita circular saw is suitable for both professional and amateur craftsmen. It's extremely balanced, free of restraints, and boasts plenty of power. Not to mention, the saw produces smooth, accurate cuts.
Pros
Brushless 16-volt motor stays cool during performances
An impressive 5,100 RPM
Automatic speed change technology improves efficiency
Powered by two long-lasting LXT lithium-ion batteries
Magnesium base and blade cover reduce weight
Cons
Could use a little weight in the rear
2. Milwaukee M18 2630-20 – Best Rated Cordless Circular Saw (People's Choice)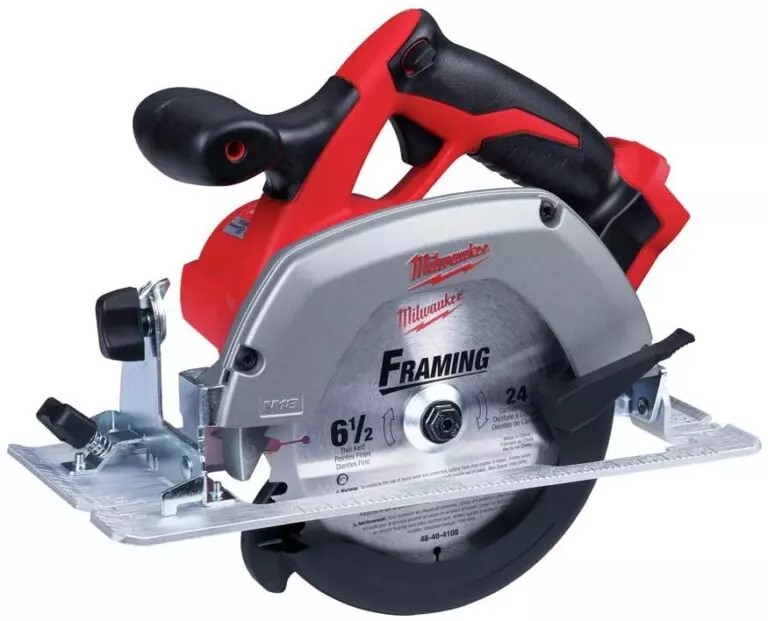 For one, the Milwaukee cordless circular  saw 6 1/2-inch pairs with a long-lasting rechargeable lithium-ion battery. There's a lot to love about the Milwaukee M18 2630-20.
We're also big fans of Milwaukee's reliable electronic brakes, which enable you to stop the blade from turning as soon as your cut is done. Nevertheless, the saw's strongest feature is its versatile cut settings.
In fact, it is capable of cutting as deep as 1 ½ inchwhile offering varying angled cuts. Besides that, the blade revolves at an impressive3,500 RPM, helping to achieve splinter-free cuts time and time again.
Lightweight and Compact Design
Milwaukee lightweight magnesium guards protect the blade and users' hands from damage. In fact, the saw can even survive the impact of a high drop.
Meanwhile, the soft non-slip handle gives users even more control over the tool. Its left-positioned blade also gives users more cut line visibility and control.
Beyond that, Milwaukee saw weighs just over 9 pounds, making it one of the lightest models on our list.
Pros
Blower keeps cut line from of debris
Generous and accurate bevel angle
Speed adjusts for minimal slowdown during cuts
Impressive cutting depth for a 6 ½-inch blade
Lightweight magnesium guards
5-year limited warranty
Cons
Top blade guard is poorly aligned
Left-blade alignment makes it unsuitable for left-handed users
3. Bosch CSM180B – Best Compact Metal-cutting Cordless Circular Saw



In fact, it is currently the smallest metal-cutting saw on the market.The Bosch Circular Saw CSM180B offers unmatched metal-cutting power with a user-friendly cordless design.
It boasts a powerful four-pole ferrite motor that is engineered to cut through a variety of metals.
What's more, the 5 3/8-inch saw blade offers a 3,800 no-load RPM, making it suitable for most professional applications.
It can cut through 2 inches of metal at a 90-degree angle. Keep in mind that the bare tool is sold separately from the required 18-volt lithium-ion battery.
Compact Design
With a 14 by 7-inch body and 4.4-pound weight, the CSM180B is one of the easiest metal-cutting circular saws to handle.
It's also extremely durable thanks to the steel footplate and impact-resistant cut line viewing window.
Not to mention, it has both electric motor and cell protection to prevent the prevalence of overload issues. The saw also has an onboard blade wrench and saw hook for simplified blade changes.

Pros
3,800 RPM thanks to the four-pole ferrite engine
Lightweight and compact design
Can cut through metals up to 2 inches thick
Steel guard and footplate
Overload protection
Cons
Debris can be an issue since there is no dust blower or collection system
Slow blade stops as there is no motor brake
4. Hitachi C18DGLP4 – Best Cordless Circular Saw for the Money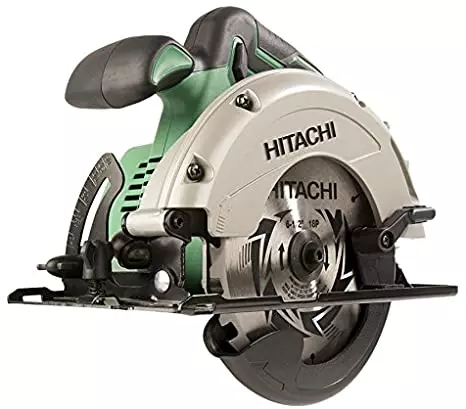 It offers a maximum cut depth of 55 millimeters and a 50-degree adjustable beveled edge. The Hitachi 6 1/2-inch cordless circular saw is an affordable yet powerful cutting machine.
As such, you can use this saw for most home improvement applications. It's also incredibly lightweight at just 6.2 pounds.
Not to mention, its left-side blade position makes for more user-friendly cutting performances. The saw is compatible with a 6 1/2-inch saw blade and includes a hex bar wrench for easy blade changes.
It also offers hours of uninterrupted work when paired with the Hitachi 18-volt lithium battery.
User-friendly Design
The Hitachi boasts loads of onboard convenience features to make cuts super easy. For example, a built-in spotlight improves cut line visibility.
There is also an electric brake for quick and accurate shutoffs. Meanwhile, the combination of the saw's lightweight body and soft non-slip handle account for unmatched comfort and fatigue-free cuts.
Due to the Hitachi's low price, we'd recommend the C18DGLP4 for anyone on a tight budget. This saw offers adequate power for home repair and other small jobs.
With its small stature and easy handling, it even minimizes fatigue. Overall, it cuts clean and proficiently.
Pros
Plenty of power for a low price (no-load speed of 4,500 RPM)
Cuts deep and offers adjustable bevel
Cordless convenience
Comes with a 19-tooth stock blade
Impressive lifetime warranty
Cons
No low power indicator
Not suitable for left-handed users
5. Makita SH02R1 – Best Cordless Min3i Circular Saw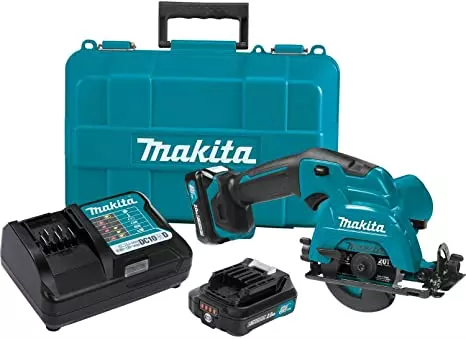 It delivers 1,500 RPM for fast, accurate cuts. It holds a 3 3/8-inch blade, which delivers a maximum of 1-inch cuts with ease. The Makita SH02R1 is a super compact circular saw with plenty of power.
It also boasts a titled base for adjustable beveled cuts. It offers a 1-inch cut at 90 degrees and a 5/8-inch cut at 45 degrees. Overall, the Makita is one of the most powerful compact saws on the market.
Reliable Customer Service
The Makita saw kit is tested and inspected before leaving the factory. However, any manufacturing issues that pop up are covered by a 3-year limited warranty.
Customers also have 30 days to return their tool if they are unsatisfied for any reason. Of course, both Makita batteries and tools have a reputation for reliability.
Overall
If you're looking for a compact, easy-to-use circular saw, the Makita circular saw is a great option. The slide-style battery slips into place without difficulty.
Not to mention, the ergonomic grip prevents workmanship errors and potentially dangerous blunders. Beyond that, the Makita saw cuts deep and accurately.
It's even compatible with a variety of materials, including plywood, particleboard, melamine, and drywall. It goes to show that you don't need a bulky, expensive saw to complete standard home repairs.
Pros
Compact 3 3/8-inch circular saw
3-year limited warranty
Weighs a mere 3.5 pounds
A maximum of 12 volts or 1,500 RPM
Built-in LED battery indicator light
Cons
Not a huge amount of power
Somewhat resistant to strong materials
How to Choose a Battery-Powered Circular Saw – Buyer's Guide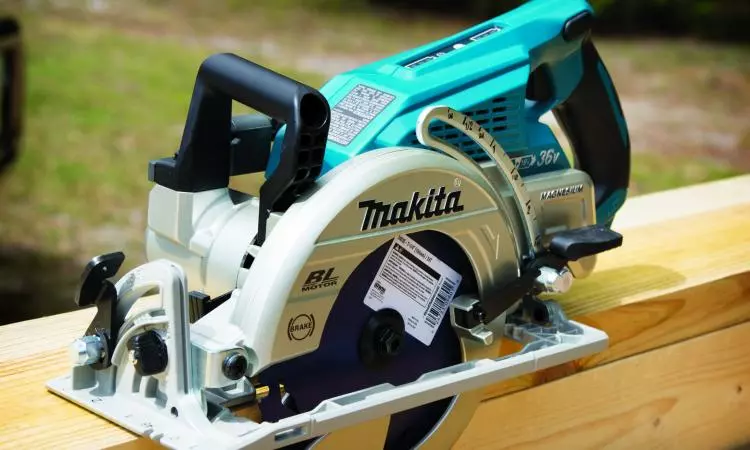 If you're still not sure of what to look for in a cordless circular saw, read along to discover common features and learn more about their benefits.
Batteries
Circular saws are typically sold as bare tools, meaning the battery is not included. In such cases, the rechargeable batteries are sold separately.
Each saw brand produces its own rechargeable battery. While these power cells are rather expensive, they can usually be used interchangeably with tools from the same brand or line.
For example, an 18-volt Milwaukee drill battery can most likely be used with an 18-volt Milwaukee circular saw. As such, most people opt to expand their tool collection by investing in a specific brand.
For this reason alone, it is essential to thoroughly research a saw brand before making a purchase.
Motor
A good battery is of no use without a powerful motor to back it up. Since the blades in the circular saw rotate to make cuts, you need to pay close attention to its measurable torque and power rating.
Most cordless circular saw motors utilize a voltage that ranges from 18 to 24 volts, which is not bad for a battery-powered tool. Keep in mind that spiralizer gears tend to generate more rotational force in these models.
Blades
Saws are compatible with a variety of blade sizes. The most common circular blade diameter is 7 ¼ inches. However, blades that measure 6 inches or more can cut through standard 2-inch lumber with one pass.
Meanwhile, compact blades, or those that measure less than 5 inches, may require more than one pass to cut through standard lumber. Keep in mind that you can typically reduce the size of the blade you use with your saw.
Most saws are equipped with a standard multi-use blade. However, you can purchase blades for cutting wood, metal, and even concrete. If you intend to alternate blades frequently, you'll want a saw that enables easy blade changes.
Bevel
Most circular saws have an adjustable footplate that can be used to produce angled, or beveled, cuts. Bevel capacities vary greatly depending on the model of saw.
Most saws have preset bevel stops that allow users to make quick and accurate adjustments. Typical bevel stops include 45, 53 and 90-degree angles
Build
While most circular saws follow a standard design, the position of the blade, motor, and handle vary greatly. For example, worm-drive saws have a blade positioned to the left and a motor positioned to the right.
Worm drives also have a handle that is positioned directly behind the motor casing. As such, these types of saws offer enhanced cut line visibility. However, they are not well-suited for left-handed users.
Alternatively, the motor and blade of sidewinder saws are positioned one after another. As such, they tend to be more compact.
Electric Brakes
Some circular saws have electric brakes. These mechanisms let you instantaneously stop the blade.
If a saw does not have an electric brake, you need to wait for it to manually slow down before changing any settings or replacing a blade.
Safety Features
Any time you're looking at power tools, safety should be a number-one priority. Look for a saw that is made of lightweight materials, such as magnesium and steel, as these are easier to handle.
What's more, make sure the saw you choose has a slip-resistant grip. All users should utilize safety glasses and hearing protection. Users should also take care to wear a dust mask to avoid inhaling dust and debris.
Ergonomics
It's hard to distinguish the difference between saws without handling them. With that said, the grip and handle of saws vary greatly between manufacturers. A saw should provide an unobstructed view of the cut line.
It should also be easy to lift and handle for prolonged periods of time. What's more, settings should be easy to access and offer quick and easy adjustments.
Extra Amenities
Once you find a saw that meets your standard requirements, you'll want to factor in the value of any additional amenities. For example, some saws feature laser guides and/or built-in spotlights for enhanced visibility.
Some even have onboard wrenches for speedy blade changes. What's more, some saws boast spindle locks that prevent blades from moving during changeovers.
Final Thoughts
The right circular may be the key to the success of your project. We recommend the Makita XSR01Z 18-volt X2 LXT Lithium-Ion 36V Brushless Cordless Rear Handle 7 1/4-inch Circular Saw to anyone looking for an amazing battery-powered circular saw.
Of course, the Milwaukee M18 2630-20 18-volt Lithium-ion 6 1/2-inch Cordless Circular Saw is also one of the highest-rated and most reliable cordless circular saws on the market.
Both of these saws are capable of deep accurate cuts, have an optional bevel, and are compatible with long-lasting batteries.
Of course, with a reliable circular saw at your disposal, you'll have no excuse to put off those home improvement jobs you've mulling over.
SKIL 20V 6-1/2 Inch Cordless Circular Saw Includes 2.0Ah PWR CORE 20 Lithium Battery and Charger -...
CUT THROUGH WOOD WITH EASE - This cordless circular saw is the go-to wood-cutting tool for DIY projects around the house.
LONG RUNNING TIME & BATTERY LIFE - The PWR CORE 20 Lithium battery has an innovative temperature management system to keep battery cool and powering on through your project.
FAST AND CLEAN CUTS - Make your cuts fast and accurate with the tool's thin-kerf carbide-tipped blade, with 24 teeth.
MORE CONFIDENT CUTS - The saw line visor helps keep the cut straight.
QUICK BEVEL ADJUSTMENT - A bevel cutting capacity from 0-50 degrees means you can reach the most commonly cut angles.
Sale
DEWALT 20V MAX 7-1/4-Inch Circular Saw with Brake, Tool Only, Cordless (DCS570B)
Power - Brushless motor of DEWALT 7 1/4 circular saw provides 5500RPM maintaining speed under load
Runtime - The cordless circular saw provides 330 crosscuts in 2x4 (pine)
Capacity - 7-1/4-inch blade of the compact circular saw provides 2-9/16-inch cutting capacity at 90 degrees
Ease of Use - Bevel capacity up to 57 degrees for increased versatility
BLACK+DECKER 20V MAX* POWERCONNECT 5-1/2 in. Cordless Circular Saw, Tool Only (BDCCS20B)
VERSATILE 5-1/2 IN. BLADE – Fast-cutting blade is ideal for a range of DIY tasks.
VARIABLE-SPEED TRIGGER – For enhanced control over every job.
ANGLED CUTS – Bevel detents at 45 and 90 degrees for angled cuts.
TOOL-FREE DEPTH ADJUSTMENT – For quick and easy adjustments without extra tools.
TOOL-FREE BLADE CHANGE – Swap out the blade without extra tools.
Sale
GALAX PRO 20V 4-1/2" Cordless Circular Saw with 2.0Ah battery, Laser Guide, Rip Guide, 2 Pcs...
Power motor and 2 blades: Blade size 4.5 inches, no load speed 3,400 RPM for faster multi-purpose cuts of wood, soft metal, tile, drywwall, plastic and more with ease; It comes with 2 blades, 24 teeth...
Adjustable cutting angle: The maximum depth of cut at 90°is 1-11/16"and bevel capacity at 45 °is 1-1/8"; Perfect for miter cuts, bevels, framing and edging; Angle guide and quick adjustment...
Laser guide: To ensure a parallel cut, laser guide is available in our compact circular saw; With the laser indicator as the guide during the cutting process, your line will be illuminated by the...
Safety and ergonomic: Features double protection switch, prevents the machine from accidentally opening, promises a safer cutting job; Soft rubber handle designed to comfortably fit in hand for...
What you get: 1 x mini circular saw, 1 x 2.0Ah li-ion battery, 1 x 24T TCT saw blade, 1 x 60T HSS saw blade, 1 x fast charger, 1 x rip guide, 1 x vacuum adaptor, 1 x hex key, 1 x manual
PORTER-CABLE 20V MAX* 6-1/2-Inch Cordless Circular Saw, Tool Only (PCC660B)
High-performance motor of DEWALT 7 1/4 circular saw delivers 4000 RPM's for aggressive cutting
6-1/2-inch carbide tooth blade of the cordless circular saw delivers a 2-1/8' cutting capacity for a variety of cutting applications
Beveling shoe of the compact circular saw piviots up to 50 degrees for non-traditional cutting applications
Contoured Overmolded Handle optimized for increased comfort
6.5lbs Compact Saw helps reduce jobsite fatigue
Hammerhead 20V 6-1/2 Inch Cordless Circular Saw Kit with 2.0Ah Battery, Charger, TCT Blade and...
Powerful Performance - Power motor delivers 5,000 RPM for greater speed and faster cuts
2-1/8" Depth of Cut - Large cutting depth for a big range of application
Plunge & Bevel Cuts - Easy-set depth gauge lever and 0-52 degree bevel settings for quick adjustments
Vacuum Adaptor - For easily connecting to vacuum and a clean work environment
Light Weight - For better maneuverability and portability
BLACK+DECKER 20V MAX* POWERCONNECT 5-1/2 in. Cordless Circular Saw (BDCCS20C)
VERSATILE 5-1/2 IN. BLADE – Fast-cutting blade is ideal for a range of DIY tasks.
VARIABLE-SPEED TRIGGER – For enhanced control over every job.
ANGLED CUTS – Bevel detents at 45 and 90 degrees for angled cuts.
TOOL-FREE DEPTH ADJUSTMENT – For quick and easy adjustments without extra tools.
TOOL-FREE BLADE CHANGE – Swap out the blade without extra tools.